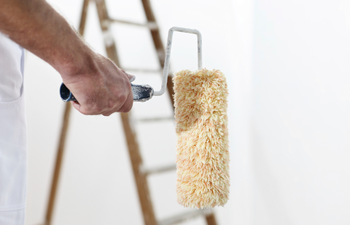 When looking for a professional painter for your home, it is important to know all your options. We know that your home is one of the biggest investments you will ever make, so proper maintenance is very important. There are many different factors that come into play such as budget, time, colors and the type of paint you choose. We will make sure you are properly educated so your new paint will stand the test of time. Our crew works hard to make sure your new paint looks perfect, is done on time and your property is cleaned up to the same condition when we leave.
We use only high quality environmentally safe painting products. In addition, we use only modern equipment and techniques for optimal application of coverage. We have the experience and equipment to complete residential jobs of any size, and do it in a timely manner. Painting upkeep is very important to maintain the integrity of your home. We will make sure you are aware of any areas of damage as well as recommendations on where our services are most needed. We stand behind our work on every job we do.
INTERIOR COMMERCIAL PAINTING
The interior of your home is where you spend much of your days and nights. We take care when painting the interior of your home not to disturb your belongings as well as work around existing fixtures and furniture. Our superior craftsmanship and attention to detail ensures your property, flooring, fixtures, furniture and baseboards are protected throughout the entire painting process.
Our professional service begins during our preparation, where we take the extra steps to ensure an excellent paint job. We take the time properly prepping the entire area including taping and caulking to make sure there is no overspray or paint where it is not supposed to be. We also offer additional service to repair and texture any damaged areas before painting. We are your complete painting service for residential jobs of any size!
Free Accurate Estimates
Drywall, Holes and Crack Repair
Complete Tape and Tarp Property Protection
Quality Commercial Based Paints
Thorough Clean Up
Final Walk Through
EXTERIOR COMMERCIAL PAINTING
The exterior of your home is extremely important to maintain for the longevity of the structure. It is not only important visually, but also very important structurally. A building is only as strong as its foundation. The same goes for the protection of the materials on the exterior of your home. We take great care in providing accurate estimates and identifying any concerns we have that may need to be addressed. We want our job to be done right the first time and stand the test of time. We will make sure you are aware of any repairs or board replacement and that may need to be done before painting.
A large majority of a home exterior paint job is in the preparation. We take great care in making sure our detailed caulking, taping and cleaning is done correctly and thoroughly. Our crew also has the skills to make any necessary repairs or replacement of siding and boards around the home. Not only will your building look perfect and beautiful, but it will be structurally sound. Our expert crew takes the time to make sure your home is protected from the elements and the job is up to our professional standards.
Power Wash
Scraping, Flanking and Priming
Caulking around Trim, Doors and Windows
Repair and Replace Siding and Trim
Roof, Vents and Metal Painting
All Structures: Fences, Decks ect.
Clean Up and Walk Through
REMODEL, REPAIR & ADDITIONAL SERVICES
Albers Painting LLC offers many additional services. There are many different repairs, preparations and replacements that may be needed throughout the painting process. Our experienced crew has the equipment and training to get the job done. We will identify and communicate any problems that may arise during the painting process. We then work together to come up with solutions, and a plan to address and correct them. Contact us for more information and a free quote on our complete services.
Pressure Washing
Drywall Repair
Texture Repair
Water Damage Repair
Wallpaper Removal
Deck Staining
Deck Sealing
Board Replacement
Trim Replacement